SSR Site Information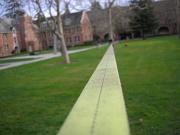 A long one on Hand Hall Lawn at UOP.
This web site was originally the home for the Pacific Slackline Club, at University of the Pacific in Stockton, California. Due to me (the author) graduating, and limited interest in the sport after a few other key people left, it has become Super Slacker Resources. The aim is more to provide general support and information to the greater slackline community.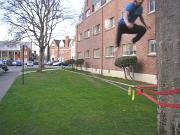 Fun by the Grace Covell dormitory.
Inquiries about any of the information found here are welcome, and you can reach me via e-mail through the link at the very bottom of the page. Should you have some information that you would like to see added, feel free to make a request. I will post your information and a citation to you for your contribution.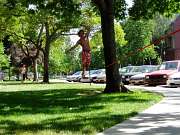 The early days of slacklining at UOP. Myself and Clay Usinger tossed up a 135-footer for the afternoon.
Thank you for visiting the web site. Hopefully you will find it to be a useful resource to aide you in your pursuit of the slacker arts!